After
3 months of no time for sewing, thanks to a long daily commute that has now come to an end, I finally got around to finishing this little number - a simple knit top. It's
a great wardrobe-builder, simple but elegant styling and would look great with either casual jeans or a more business-like black skirt. I can't wait to try the other variations.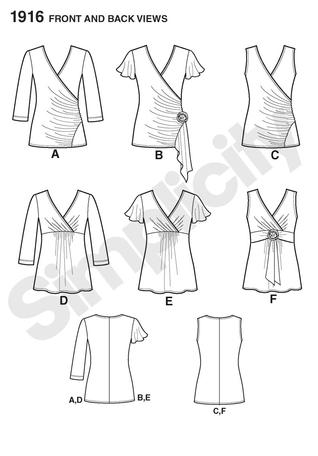 Here are the technical drawings. I made version "A' but cut out the sleeves short. I figured it would work better for both summer and under a little sweater or suit jacket for winter that way. I didn't bother making a muslin this time as a test run, I find patterns for knit tops usually work out just fine.
The fabric is a lovely purple knit, just the right medium weight and super-soft, something I picked up while on a trip to Germany.
I didn't make any structural modifications to the version I've posted here, but I did have to fix up the neckline by sewing the front pieces that crossover together. Otherwise, it was rather low-cut and the "ladies" were fully exposed. I almost ALWAYS have this problem with cross-over tops, stuffing DD-size boobs into this style without looking like a snarky tart can be tricky.
Next time I'll modify the front pieces like this to provide a little more cover:
Here are the comments I posted on patternreview.com:
Pattern Description:
Misses' knit wrap top with sleeve variations.
Pattern Sizing:
6-14, and 16-24 (also available as printable online)
Did it look like the photo/drawing on the pattern envelope once you were done sewing with it?
Yes
Were the instructions easy to follow?
Yes
What did you particularly like or dislike about the pattern?
It was so simple to make, I plan to try all the variations in order to build up my wardrobe!
Fabric Used:
Some kind of knit, probably poly.
Pattern alterations or any design changes you made:
Too low cut. I will have to make adjustments to the neckline next time, I found the finished top was too revealing for the "ladies" - I ended up having to stitch the overlapping pieces together a little higher up, so that I can wear the top to work.
Would you sew it again? Would you recommend it to others?
Definitely!
Link to post on
burdastyle.